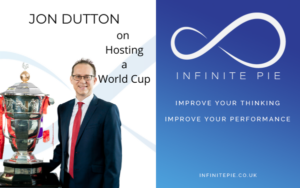 Today you will hear a conversation that I had recently with Jon Dutton, The Chief Executive for the Rugby League World Cup 2021.
Jon shares the challenges and opportunities of leading an event like this, and how it is much more than just the games played on the field. We discuss the importance of setting big goals and how this tournament plans to support communities and have a wider impact.
We also talk about the importance of building and developing a team, and the benefit of surrounding yourself with great people. Great people who want to make a difference and are aligned to the visions and values required to set out to deliver "The Biggest and Best Ever Rugby League World Cup".
I also want to say thanks to one of my previous guests, Chris Brindley MBE, who made the introduction.
As always, if you enjoyed and received value from this, then my one ask is for you to share it with someone you feel may also benefit from it.  Sharing, subscribing, rating and reviewing is how the show will grow and develop and we can provide you with more great stories and tips on how to "Do stuff that matters, with people who count, in places that inspire!".
Thanks for listening, now go and do stuff that matters and have a great one.