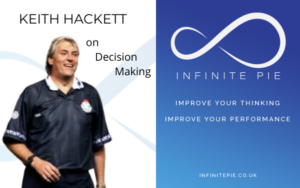 Keith Hackett was a top flight referee and is still counted among the top 100 referees of all time in a list maintained by International Federation of Football History and statistics. Following his career of managing games and events on the field, he took up a role as General Manager of Professional Game Match Officials Board and was responsible for process development, continued professionalism and bringing in technology and innovation. In this conversation Al Fawcett explores the opinion of Keith Hackett on decision making, observation, the ability to be in the right place at the right and how effective communication can have a positive impact on outcomes.
Keith is no stranger to having to assess a situation, explore the options and move things forward quickly, and share his perspective on how to do this effectively and when there are times when you have to "stand on the ball', de-escalate a situation and gain control.
There a re lessons that can be applied in all aspects of life throughout this conversation, so let me know what you take from it and how you plan to apply it.