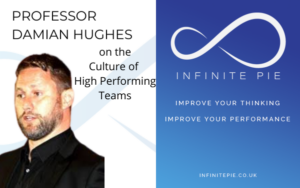 Professor Damian Hughes started his life with a boxing gym as his playground. It meant he was around elite sports from as early as he can remember, and it was this environment that sparked his interest in the culture of high performing teams and individuals. In fact he learned many lessons in that gym, as it was run by his father, a man who eventually had a road named after him due to the role he played in many others lives.
Of course it wasn't  necessarily a light bulb moment or the instant inspiration that is the stuff of the movies. These lessons and values were learned over time, and took a period of self awareness and self reflection.
Damian has gone on to be a best selling author, international speaker and combines a practical and academic background within sport, organisation and change psychology to work as a trusted adviser to business, eduction and the sporting elite, specialising in the creation of high performance culture. He has been called the coaches' coach.
He is also the co-host of the fantastic High Performance podcast alongside Jake Humphrey. New episodes are available each Monday, so why not start the week with Damian and Jake and The High Performance podcast and end it with some infinite pie thinking.
In this conversation Damian shares his perspective on –
The real impact of culture
How your behaviours are your values in action
Why people don't follow hypocrites
The difference between optimistic thinking and positive thinking
Establishing your 3 non negotiable behaviours and then prioritising them
why you should ask for a roadmap not a timescale
The five stages within the arc of change, and how we can get caught in a loop
If you want to know more about Damian, then follow him on instagram @liquidthinker or check out his website liquidthinker.com.