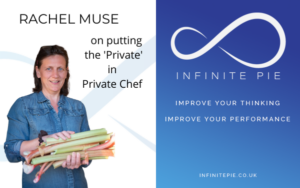 In this episode of infinite pie thinking, I have a conversation with Rachel Muse, a Private Chef to Premier League Footballers and other high net worth clients. Rachel shares her story, insights and perspective on
overcoming challenges
finding the thing you love and enjoy
the desire to understand how things work, and ways to do things better
building a business
developing others
the importance of a great team and support network.
Rachel also explains why 'Private' comes before 'Chef' in her title.