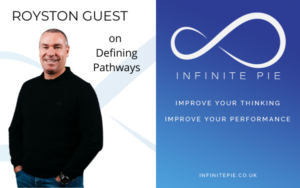 Royston Guest is an entrepreneur. He has written the Number 1 best selling book "Built to Grow" and has since gone on to write "Rise, Start Living the Life You Were Meant to Lead". He is a business strategist, executive coach, conference speaker and the founder of PTI Worldwide, a global consultancy and people development business. As you will hear, Royston has also recently launched Pathways Global, a data led, mentor style, growth insights platform for your business, of which he is the CEO.
In this conversation, Royston shares his knowledge and experience of growing businesses and throughout the discussion you will hear about
The power of mastery
The true value of quality questions
Learning from successful people
How prioritisation moves the needle
The benefit of alignment
Leaders as great storytellers
Coaching stories
Successful people and their insatiable thirst for knowledge
The impact of setting people up for success
Having conversations with a purpose
To know more about Royston check out –
RoystonGuest.com
Pathways Global website
Royston Guest on LinkedIn
Royston Guest on Twitter
Royston Guest on instagram
We have been getting some fantastic comments on the show like this review from Tesh "These podcasts give an insight into how those little things, practically, physically and mentally can create and sustain positive change'. Thanks Tesh, I really appreciate the feedback. As always, if you enjoyed and received value from this, then my one ask is for you to share it with someone you feel may also benefit from it.  Sharing, subscribing, rating and reviewing is how the show continues to grow and develop and we can share  more great stories from remarkable people. And  who knows, maybe you will be the next one that I share.
I'd love to know what you think so, you can also reach out and get in touch by emailing ipt@infinitiepie.co.uk.  It would be great to hear your thoughts and experience of Leadership, Teamwork & Culture, or even who you would love to hear me to talk to on the show.
Of course, if you want to know more about infinite pie thinking, or receive some coaching and development help and support then you can email or find me on all the socials and check out some of our content and the way that we help you Do Stuff that Matters, with People who count, in places that inspire!
Thanks for listening, now go and do stuff that matters and have a great one.