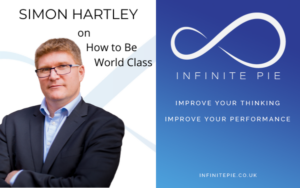 Today I am speaking with Simon Hartley on how to be world class.  Simon is a globally respected sport psychology consultant and performance coach.  For more than 20 years, he has worked with elite level athletes and sports people including Gold Medallists, World Record Holders, World Champions, Olympians and Championship Winning Teams. In the last ten years, Simon has also applied many of the lessons that he has learned, principles that he has shared and the skills he has developed to business, education, healthcare and the charity sector.
Passionate about helping individuals and organisations to maximise their performance, Simon is focused on helping them work towards becoming world class in their chosen fields.
So I am sure that you will see that there is something here for anyone interested in developing their mindset and approach to their performance, whether personally or professionally.
Simon shares some great information covering lots of areas such as
goal setting
succession planning
exploring our character and building resilience
the concept of pressure as a manifestation of your imagination
the power of high performing teams
the chain of interdependency
collaboration and the willingness to collectively solve problems.
If you want to know more about Simon, then make sure you head over to his website be-world-class.com  where you will find more details and his content and the exciting things that he is up to.