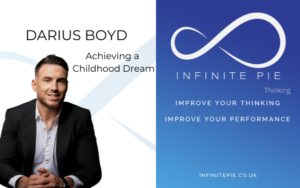 Darius Boyd on Achieving a Childhood Dream
Growing up on the Gold Coast, Darius was a boy who set himself the goal to play one game for the Brisbane Broncos in the NRL. In this conversation, Al Fawcett speaks with Darius Boyd on achieving a childhood dream.  Whilst Darius did not play at the highest level of the game as a young player, and would watch as those around him received scholarships and picked for representatives sides. This would be enough to stop many people, but Darius just worked harder. At the age of 18, rewarded for all of that work, and the desire to improve his performance, Darius found that childhood dream coming true, as he made his debut for the Broncos.
It was not a matter of just paying one game. Surrounded by great players and supported by one of the best coaches in the game,  Darius went on to win a premiership in his first season with club. And it didn't stop there. He spent 15 years playing at the top level of the game. In that time, he achieved almost every accolade that rugby league could offer, playing and winning top honours with his clubs, State and Country before retiring after the 2020 season. 
As he shares his story, you will hear Darius explain how as an elite athlete, he learned about the importance of teamwork; the power of great coaches and coaching; and the value of surrounding yourself with the quality people, and quality information, on and off the field. He also shares how his journey in sports was much more than catching, kicking and passing a ball. In 2014, Darius attracted national media attention when he walked away from the game to seek help for his mental health. When he returned the following year, determined to restart his career, he went on to earn the title of Best Player for the Queensland Maroons in the 2016 State of Origin.
Darius now applies the lessons that he has learned and experienced and the strategies both lived and studied to help others achieve the best from their teams through a focus on positive mental health. 
There is so much more to this chat than footie. From goal setting to the importance of hard work; the value a coach and mentor can have; learning from experience; feeling valued and feeling heard; taking responsibility for your role in creating the right environment to inspire and support you; understanding how leadership comes in many styles and approaches; how caring about the individual is the foundation of building a successful team; and helping those around to you to get better, to be better and to do better, were just some of the things I took away from this conversation.
You may no longer be a youngster, but it doesn't mean that you don't have goals. There is still so much you can take from this chat with Darius Boyd on achieving a childhood dream and apply it to any situation in your life, right now. It is never too late.
They say there is no 'I' in team, but Darius Boyd has a slightly different spin on it, and you can head over to theIinteam.com.au to find out a lot more. I would also recommend that you check out his book "Battling the Blues" if you get the chance. I also recommend that take a couple of minutes to read the original post that Darius shared on LinkedIn, called "Five Reasons for Maroons origin Success" that was one of the things that inspired me to reach out to him in the first place. 
So a big thank you to Darius and to you for taking some time to check it out and give this a listen. If you enjoyed it, let me know what you took from it and I would love it if you shared it with someone else that you feel will get something from it. 
Of course if you are working on your own goals and performance improvement and want to explore how our coaching could help, you can reach out to me here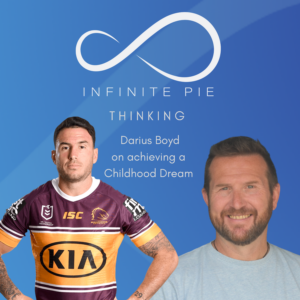 Full transcript of Darius Boyd on Achieving a Childhood Dream (to follow).