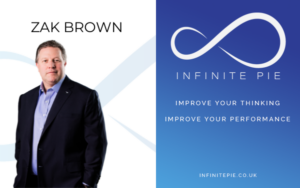 Zak Brown, CEO of McLaren Racing
Zak Brown is the CEO of McLaren Racing. It's a role that gives him the overall responsibility for the McLaren Racing organisation, including the strategic direction, operational performance, marketing and commercial development of the McLaren Formula 1 and IndyCar programmes.
Zak's road to becoming a leader in the racing industry started as a professional driver, racing in the USA and Europe. It was in 1995 that Zak then focused on the business side, founding the agency JMI, which grew to become the largest motorsport marketing agency in the world and was acquired by Chime Communications PLC in 2013 as part of its sports marketing division, CSM. Zac was appointed the company's Chief Executive Officer before joining McLaren.
With a huge history in F1, a legacy of success, a fantastic fan base, and one of the most popular driver line ups, I was keen to understand when you join and lead a brand like McLaren, what do you do and where do you start?
In this conversation Zak shares his perspective on
The importance of hiring the right people, creating the right structure and not meddling

Leadership, communication and measurement

Aligning goals and avoiding a blame culture

Knowing your role and how it benefits others

Decision making and the impact of data and intuition

The brand promise – to fans and to colleagues

Performance under pressure

Striving for perfection and raising the bar
And much more.
We would love to hear what you think, your ah-ha moments and the lessons you take from it, what feels most relevant to you now (and why) and of course what action you are taking as a result.
If you want to know more about Zak, McLaren and what they are achieving, then why not follow them –
For the full transcript of Zak Brown CEO of McLaren Racing on the Infinite Pie Thinking podcast with Al Fawcett see below.
If you enjoyed this conversation, then why not head over to our podcast page and check out some more conversation with some remarkable Infinite Pie Thinkers.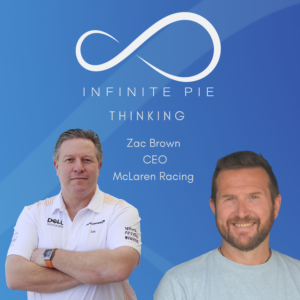 Full Transcript of Zak Brown CEO of McLaren Racing on the Infinite Pie Thinking podcast with Al Fawcett (to follow)