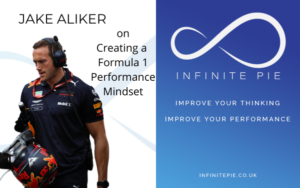 Imagine what it would be like to be asked to become the personal performance coach for someone who is seen (and expected) to be the next big talent in Formula 1. Imagine that you are working in an environment that you are passionate about and have a solid understanding of, and you are offered an exciting opportunity that you know will be a challenge. Well, you don't need to imagine it, as you can listen as I talk with Jake Aliker on creating a Formula 1 performance mindset following his introduction to a teenage Max Verstappen at Red Bull Racing.
With over a decade of experience coaching in elite sport, Jake is passionate about helping people reach their highest potential.  Taking lessons learned from his time as a strength and conditioning coach with professional rugby teams and then 5 years with Red Bull and Max, Jake founded his coaching and development company Force and Grace and is heading up performance for the Porsche Supercup team, GP Elite.
Jake Aliker on Creating a Formula 1 Performance Mindset
In this conversation you hear Jake outline what it takes to cut through the noise and distractions and focus on what matters. What will help the driver get that little bit better and go that little bit faster.  We discuss what it takes to identify the goal and set the expectations, develop strengths and establish any problems or issues.  You will hear about the clarity necessary to know exactly what you are working on to achieve the desired results.
How do you know to call it anxiety? In high performance sport and F1, that is the signal for Max to move forward. That signal is a hold back, it is not a stop, it's not a don't go for this change, because I am going to make a mistake. A Max Verstappen of the world goes full throttle, and harder and faster into the corner than anyone else.
That is a high performance mindset.  The ability to reframe your thinking to turn an emotion or feeling that for many of us would hold us back into a signal to make progress.
A Personal Development Focus
Jake also shares his own personal development as he joined F1 with no background in the sport, and was tasked with coaching someone who had grown up with the F1 paddock as his playground. Quickly realising there was a lot more to the role than just setting out to help Max bit the fittest strongest driver in the lineup, Jake set up developing relationships with the team, to manage communications and ensure that the right information was coming from the right people and was all aligned.
This was about supporting the team goal whilst setting the individual up to be ready to perform at their best. This was about constant performance improvement and focusing on getting even better. This was about developing influence without authority, That is high performance. That is Jake Aliker on creating a Formula 1 performance mindset.
Take a listen to the whole conversation and let me know what you think.
If you want to know more about or follow Jake then you can –
instagram – @jake_forceandgrace
twitter – @jaliker
LinkedIn – Jake Aliker
Website – ForceandGrace.com
Remember you don't need to be an elite athlete or Formula 1 racing driver to apply the lessons in this conversation. They apply to all of us and can help both personally and professionally. If you find yourself holding back. If you know you have unlimited potential that you are not reaching, or that you are capable of more but not sure where to start or what to do, then why not check out the ways that we can help, or get in touch.