Jeremy Blain on Unlocking the Inner CEO
Jeremy is passionate about Learning and Development. Jeremy is also passionate about how to apply it. So, it is great to speak with Jeremy Blain on Unlocking the Inner CEO.
Through both his research and experience, Jeremy helps leaders and managers to define strategies to implement digital and human transformations for the modern workplace.
Jeremy is the Chief executive of PerformanceWorks International (PWI), a company that helps organisations, executive boards, leaders and teams succeed in the digital climate amidst disruption, opportunity and uncertainty. Jeremy combines his leadership know-how as an international CEO and executive board officer in the UK and Asia with his experience as a learning and human capital professional of over 20 years.
In his new book "The Inner CEO: unleashing leaders at all levels", Jeremy provides a practical, how-to book on how to bring in a true age of empowerment within our organisations. It shares the context, best practice examples, interviews, new models and comes complete with a 90-day starter roadmap – at both organisation and individual level focused .
After researching and writing 30 industry white papers, Jeremy wrote the book as he felt there was a gap for those looking to understand how to unleash the Inner CEO within our people and create the conditions where everyone has the opportunity to contribute beyond their job role, more strategically across the broader organisation.
To learn more about Jeremy Blain and his work –
Jeremy Blain on LinkedIn
Jeremy Blain on Twitter
PerformanceWorks.global
and to check out his book –
Inner CEO via Amazon UK
Inner CEO via Amazon USA
If you want to listen more conversations with remarkable people where I ask them to share their stories, their experiences, challenges, opportunities, perspectives and insights on performance and performance improvement then head over to our podcasts page. You can listen to World Champions, elite athletes, award winning entrepreneurs, successful business leaders and owners, coaches, psychologists, authors, artists and creatives, as we discuss their mindset and approach, the decisions they have made, the action they have taken and the lessons they have learned. 
If you want to know a bit more more about we maybe able to help you or your organisation with your performance, then why not check out what we do.
You can always get in touch and we will be happy to arrange a discovery call to talk it through with you.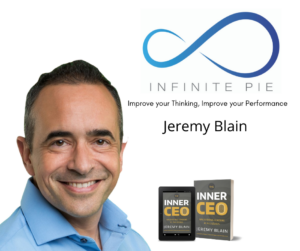 [Full transcript of Jeremy Blain on Unlocking the Inner CEO on the infinite Pie Thinking Podcast with Al Fawcett – to follow]