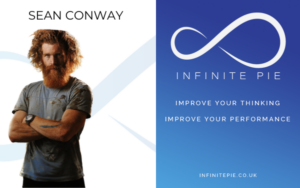 Sean Conway the Endurance Adventurer
In this episode I am speaking with Endurance Adventurer, Sean Conway. Sean has set out and achieved some incredible challenges, and of course along the way has seen his fair share of set backs as well.
His adventures include (amongst many others)
running from Conwy Castle in North Wales to Castle Conway in West Ireland 
an across Europe cycle ride – a 3890 mile route from Portugal to Russia, that he achieved in 24 days, 18 hours and 39 minutes
a 4200 mile triathlon around the coast of Britain, attempting the feat completely self supported and setting a world record by completing it in 85 days 
kayaking down the Thames for 7 days, starting Boxing Dox 
setting a World Record by sailing the length of Britain, completing the 700 miles in 83 hours and 53 minutes
a Round the World cycling challenge
During the conversation you will hear the motivation behind the adventures, how Sean went from chasing the money to chasing his goals, and the core principle of having no "Plan B".  He shares his insights and perspective on personal responsibility and self awareness. The importance on really taking time to reflect, and to know and understand yourself. Optimising your performance can come through listening to your body, but of course, I also believe it is important to review your thinking.
If you want to follow or find out more about Sean, then you can follow him on instagram using @seanconwayadventure or you can head to his website seanconway.com where you can learn more about what he has done, what is doing or find his books and other information. 
I also mentioned during my conversation with Sean that I capture stories for future generations.  This has been something we have added to what we do at infinite pie, in addition to coaching, consultancy and providing facilitated audio narrative services for businesses and business leaders. If you would be interested in talking through any of these, then head to the home page and get in touch or arrange a quick discovery call to discuss and explore it further. 
Full transcript of Sean Conway the Endurance Adventurer on the infinite pie thinking podcast with Al Fawcett (to follow).