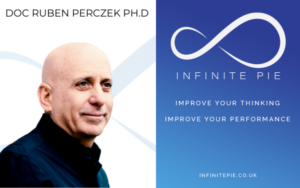 Doc Ruben Perczek the High Performance Strategist
Doc Ruben Perczek is a High Performance Strategist who specialises in supporting his clients to create success and make a sustainable impact through the development of top talent. He describes the people he and his team serve as "co-creators of change" and "conscious high performers." "Co-creators" because they know that sustainable positive change in high performance occurs through shared collaboration to find solutions that generate success, and "conscious" because they are aware that the path to success in high performance requires a constant openness to learning. 
This desire to help others followed his own involvement and achievements in sports. 5 national championships, and a ranking in the world youth top 5 before his 15th birthday, Doc Ruben competed on the professional tennis circuit as a member of the Colombian Davis Cup team. His training in high-performance sports led him to discover his purpose. He looked to focus on and explore how to uncap the highest potential of high performers in sports and public life.
As a result he decided to train academically to increase his impact. His work at the University of California at Irvine led him to specialise at the Stanford School of Medicine where he began to develop his own methodology which he went on to eventually define as  "The 7 Roots of Potential". Based on framework and his strategic discipline and approach, he helps public leaders and professional sports institutions. His focus and intention is top evolve high performing cultures, guiding the alignment within leadership teams and the development of their top talent, without killing spirit and passion along the way.
In the last 20 years, Dr. Ruben Perczek has worked to support and develop high performance cultures and leaders in organisations across various sectors and industries, including the sports and public service industries. His experience as a strategic advisor includes his work with The Oxford Leadership Academy, Governments of Canada and Mexico,  Shambhala Institute of Authentic Leadership, International Forum for Environmental Sustainability – Government of Iceland, adidas NA and LATAM, The Office of the Mayor in Miami, Florida, ShopRite, Department of Athletics at the University of Miami, and head coaches and professional athletes in diverse Olympic and professional sports.
In this conversation we discuss what we mean by high performance, the difference between problem solving and possibility discovery, the idea of getting back to a blank slate and the concept of being ok with not knowing. We talk about the fact that we don't have to always feel like we have all the answers. That if we move from constantly problem solving and looking to provide the answers and solutions, and move towards discovering possibilities and starting to ask more questions, and exploring more opportunities, then we can achieve great things. 
Why not head over to docruben.com and you can find out more about Dr Ruben Perczek Ph.D and his work. 
Of course if you want to hear more great stories from remarkable people then check out the other podcast episodes.
If you want to find out more about our coaching, consultancy or new audio services and how they can help you to improve your performance both individually and organizationally, then take a look at what we do. Get in touch or arrange a quick discovery call to discuss and explore it further. 
It will be great to hear from you.
Doc Ruben Perczec the High Performance Strategist on infinite pie thinking with Al Fawcett – Full Transcript (to follow)