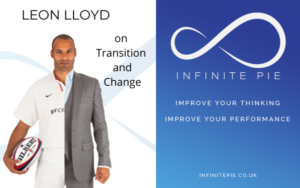 Hi, I'm Al Fawcett and this is infinite pie thinking.
Leon Lloyd played professional Rugby at the highest level, winning caps as an England International and multiple trophies and honours with the Leicester Tigers. Having to retire at 30 due to injury meant that Leon had to ready himself for a new life and new challenges. He had prepared for the change, he had done his homework and was ready to apply the research. However it still came as a shock to him, just how much change was required.
In this conversation, Leon shares his thoughts on –
what it takes to be ready for change.
 the value of learning from those around you and having a thirst for knowledge
Peer led accountability
Becoming a product of your environment
The impact of trying not to make mistakes
How to give and take feedback (spoiler – keep it simple)
Turning great individuals into a successful team
Leon Lloyd is now the CEO of Switch the Play, an organisation set up with a mission to empower sports people to plan for, and manage, a successful transition to life after sport. He is also an entrepreneur, key note speaker and author of the book – From Boot Room To Board Room.
You can follow Leon via twitter @LeonLloyd13 or LinkedIn using Leon Lloyd
I'd love to know what you think, so you can reach out and get in touch by emailing ipt@infinitiepie.co.uk.  It would be great to hear how you manage change and transitions, or your thoughts and experience of Leadership, Teamwork & Culture, or even who you would love to hear me to talk to on the show.
Of course, if you want to know more about infinite pie thinking, then check out some of our other content and the way that we help you Do Stuff that Matters, with People who Count, in Places that Inspire!
Thanks for listening, now go and do stuff that matters, and have a great one.